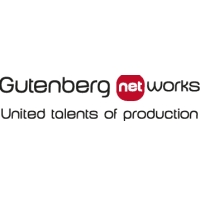 Background:
Gutenberg Networks is a global production company providing print, digital and television services for advertising agencies and advertisers.  As part of the Omnicom Group we work with many leading brands and have various production hubs around the world. Our London office delivers TV production, postAproduction and adaptation services for a range of local and international clients, with a focus on European campaign implementation.
Against the recent win of a very large piece of international business we are looking to expand our team.
Position Requirements:
We require an experienced TV adaptation producer, who is comfortable with the broadcast advertising process in France. We require a native French speaker, with good spoken English and any other language a benefit. A more detailed list of the skills required is listed below.
This is an exciting chance to join a fast growing, fun and vibrant team, with great opportunities for career progression.
We are looking to bring in the successful candidate immediately.
The role is based in Gutenberg Networks' central London production office, with relocation costs available for the right candidate.
Technical skills:
Excellent knowledge of postAproduction and international versioning / adaptation
3 plus years working in post environment
Technically confident with common TV formats, codecs, audio files etc.  » Awareness of postAproduction software: Avid, FCP, Premier, After Effects, 3DS Max, Nuke etc.
Good TV admin skills – Usage rights; media schedule fulfillment, playAout process etc. 
Knowledge of delivery systems: i.e. Adstream, Beam, IMD, DubASat etc.
Adaptation experience: comfortable with global broadcast specs, local regulators, working in other languages including voice records
Experienced with MS Office software: Word, Excel, Outlook
Must be native French speaker
Must have experience of working in the French broadcast environment and advertising standards including ARPP regulations
Personal Skills:
Very organised and able to plan ahead and deliver on time
Able to deal with multiple tasks and projects at once, against tight deadlines
Excellent project management skills
Excellent communication skills
proAactive, for example being comfortable with:

Suggesting ways to improve procedures/processes
Ability to use any downAtime to actively look to for opportunities to help others / drive the business forward / housekeeping.
Confidence in dealing with clients, agencies, editors, sound engineers
Team player, ability to remain calm under pressure and has a positive attitude
Fits in to the GN culture where we work hard and have lots of fun
Please send your resume to Jamie Baker: Jamie.baker@btinternet.com